Here is an article about Luxembourg in the WWW Song Contest.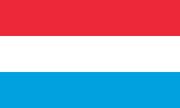 Edition
Artist
Song
Final
Points
Semi
Points
#43
James Borges
Lonely
Did Not Qualify
16th/24
39
#44
Daniel Balthasar
Accidentally
Did Not Qualify
21st/22
18
#45
Angel at my table
Eclipse
Did Not Qualify
16th/24
54
#46
Eternal Tango
The Golden City
Did Not Qualify
17th/24
44
#48
Sun Glitters ft. Niva & Charlee
Eventide
Did Not Qualify
21st/24
34
#49
Say Yes Dog
Stronger
Did Not Qualify
18th/24
38
#50
Thierry Mersch ft. Patricia Venâncio
Mir Hunn Ee Groussen Dram
Did Not Qualify
8th/16
60
#51
Claudine Muno
Alaska
Did Not Qualify
9th/16
71
#52
Seed To Tree
Until It Gets Better
21st/27
76
5th/16
67
#53
District 7
Heartbeat
Did Not Qualify
16th/16
27
#55
Benjamin Lasnier
Somebody to hurt
9th/27
114
7th/16
81
#56
TUYS
Belong
Did Not Qualify
Ad blocker interference detected!
Wikia is a free-to-use site that makes money from advertising. We have a modified experience for viewers using ad blockers

Wikia is not accessible if you've made further modifications. Remove the custom ad blocker rule(s) and the page will load as expected.