Here's an article about Italy in the WWW Song Contest.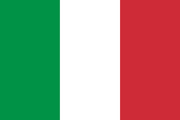 Edition
Artist
Song
Final
Points
Semi
Points
#17
Emma
Cercavo Amore
1st/25
153
1st/16
104
#18
Baby K ft. Tiziano Ferro
Killer
17th/25
49
Auto-Qualified
#19
Chiara
Due respiri
4th/25
118
4th/17
81
#20 
Elisa
Labyrinth
25th/25
DSQ
Auto-Qualified
Ad blocker interference detected!
Wikia is a free-to-use site that makes money from advertising. We have a modified experience for viewers using ad blockers

Wikia is not accessible if you've made further modifications. Remove the custom ad blocker rule(s) and the page will load as expected.