Here's an article about Ethiopia in the WWW Song Contest.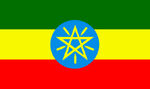 Edition
Artist
Song
Final
Points
Semi
Points
#49
Kenna
Face The Gun
24th/26
70
4th/24
91
#50
Jano Band
Yinegal
8th/27
122
10th/16
60
#51
Kelela
A Message
Did Not Qualify
11th/16
54
#52
SoundGirl feat. Twizzle
I'm The Fool
12th/27
110
7th/16
65
#53
Honey Mahogany
It's Honey
Did Not Qualify
13th/16
28
#54
Ayoe Angelica
Dr. Jekyll
Did Not Qualify
13th/16
54
#55
Abelone
No more
Did Not Qualify
14th/16
43
#56
Emilia Mitiku
You're Breaking My Heart
7th/27
123
3rd/16
95
#57
Mirel Wagner
1, 2, 3, 4
Did Not Qualify
15th/16
35
Ad blocker interference detected!
Wikia is a free-to-use site that makes money from advertising. We have a modified experience for viewers using ad blockers

Wikia is not accessible if you've made further modifications. Remove the custom ad blocker rule(s) and the page will load as expected.