Here's an article about Cuba in the WWW Song Contest.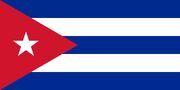 Edition
Artist
Song
Final
Points
Semi
Points
#31
Descemer Bueno ft. Gente De Zona
Bailando
4th/26
122 
3rd/19
91 
#32
El Medico
Chupa Chupa
Did Not Qualify
19th/20
26
#33
Raul Paz
Mulata
Did Not Qualify
20th/22
30
#34
Xiomara Laugart
Mi Habana
Did Not Qualify
20th/22
25
#35
Chakal y Yakarta
Besito Con Lengua
Did Not Qualify
18th/21
38
#36
Polo Montañez
Un montón de estrellas
Did Not Qualify
15th/23
60
#37
Leoni Torres & Descemer Bueno
Amor Bonito
Did Not Qualify
21st/22
16
Ad blocker interference detected!
Wikia is a free-to-use site that makes money from advertising. We have a modified experience for viewers using ad blockers

Wikia is not accessible if you've made further modifications. Remove the custom ad blocker rule(s) and the page will load as expected.