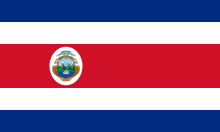 Here's an article about Costa Rica in the WWW Song Contest.
Edition
Artist
Song
Final
Points
Semi
Points
#51
Patterns
Sunny Days
5th/27
137
2nd/16
96
#52
Norman Brown feat. Debi Nova
Won't you stay
Did Not Qualify
16th/16
12
#53
Ricardo Sossa
Devastado
25/27
53
5th/16
68
#54
Charlene Stewart
Sin Ti
Did Not Qualify
8th/16
68
#55
Tamela Hedström
Hoy Solo Estás Tú
Did Not Qualify
12th/16
56
#56
Son De Tikizia
Pasion
Did Not Qualify
16th/16
35
#57
Sean Paul feat. Debi Nova
International Affair
Did Not Qualify
15th/16
39
#58
Samael Saborío & Karla Matarrita
Y Nos Dieron Las Diez
Did Not Qualify
16th/16
23
#59
Johan Estrada
Ella
Ad blocker interference detected!
Wikia is a free-to-use site that makes money from advertising. We have a modified experience for viewers using ad blockers

Wikia is not accessible if you've made further modifications. Remove the custom ad blocker rule(s) and the page will load as expected.